Beyond the Gate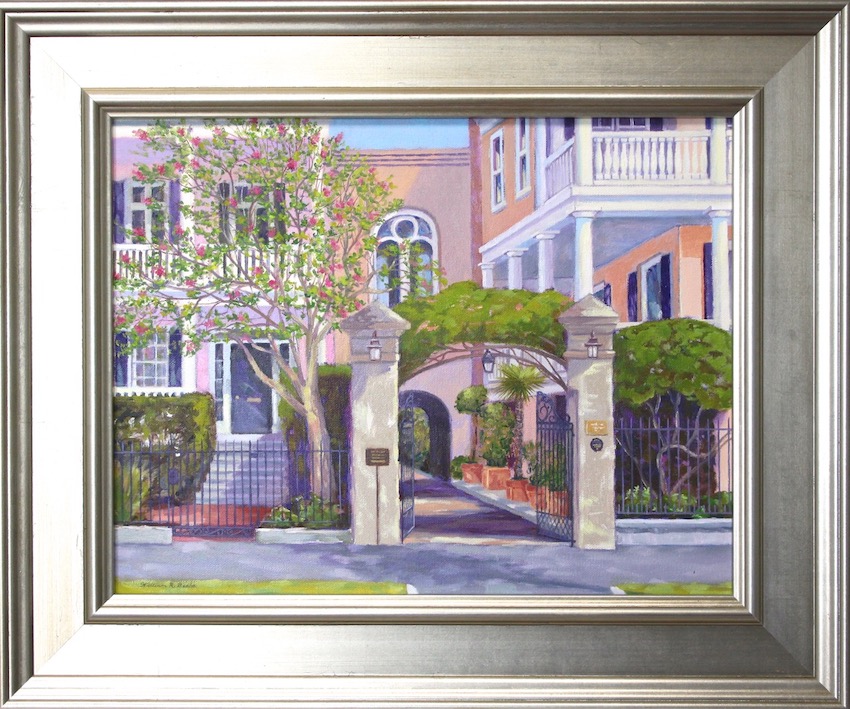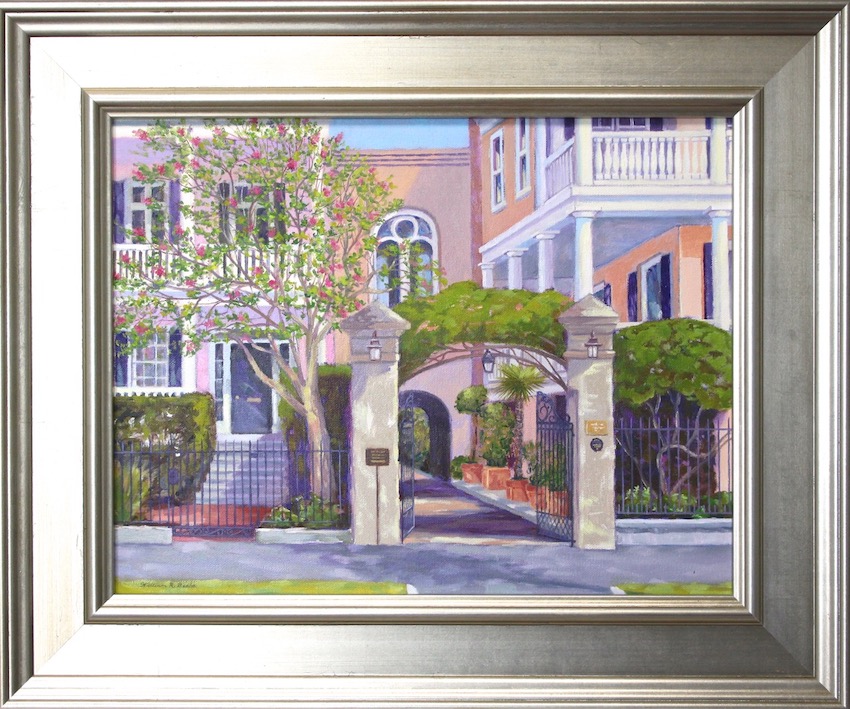 Beyond the Gate
Framed oil painting
14 x 18 (image size) oil on canvas
Beyond the Gate ~ The Battery Carriage House Inn
As you walk around the residential areas of downtown Charleston there are many decorative wrought iron gates that are closed to the public, but allow you to peek into secret gardens and down well groomed driveways. In my latest painting, Beyond the Gate, I depict an open gate on South Battery covered by an arch of greenery.
The concrete pillars are obviously old, the gate simple compared to many, and the alleyway looks like it leads to an open garden of sorts. I came to the conclusion it is the entrance to an historic old home or Inn, possibly of some importance. The small sign read "Battery Carriage House Inn".
Because I was taken with the arched gate and the surrounding architecture of the two homes (22 and 20 South Battery), I started the painting without researching the history of the The Battery Carriage House Inn.
As I often do, I posted work-in-progress pics on my Facebook Page. Almost instantly I heard from a good friend and local historian, Mimi Wood, who emphatically wrote these words, "It's SO haunted!"
If anyone would know, Mimi would. She gives nighttime Ghost tours around downtown Charleston. Turns out room 10 and room 8 of the Battery Carriage House Inn have two different ghosts that have been reported over the years by many of the guests. If you Google ghosts in Charleston, The Battery Carriage House Inn is rated the number one haunted house!!!
The Inn is also known to be a romantic Inn. Another post from one of my followers said that the couple had stayed there on their honeymoon 35 years ago and loved the Inn. Not surprising, the Los Angeles Times wrote, "Among the most romantic of Charleston's Inns is The Battery Carriage House." Elegant Small Hotels describes the Inn as, "Garden-centered, history-laden, romantic and intimate... This is definitely the right spot for a gracious, relaxing, European-style getaway south of the Mason-Dixon line."
What stopped me from walking by and made me decide I had to paint this particular scene? After all there are endless scenes similar in nature around town, ones more elegant and charming. The fact that the gate was open with potted plants leading to another archway with light beyond made it welcoming.
The Elegant Small Hotels review described my first impression of the property, "garden-centered, history-laden, romantic and intimate".
The fact that it is considered haunted and dates back to the 1840's with interesting and well-to-do owners is a bonus. You can read about the Inn's history here.
I enjoyed painting it in a relatively loose style, choosing to focus on lighting, architectural shapes, and colors. The Charleston colors of the two homes along with the white trim, pillars, and rails all combine so well that at first glance you might think it is one large estate, when in reality it is two separate homes.